Development of a demonstrator for safe and critical 5G applications for neurosurgical use-cases
Major challenges through the digitization of clinics include increasing numbers of medical devices and medical controls through wired interfaces. Wireless medical devices could solve this clinical requirement with the help of 5G campus networks, which can create a secure, steady, and reliable data transmission.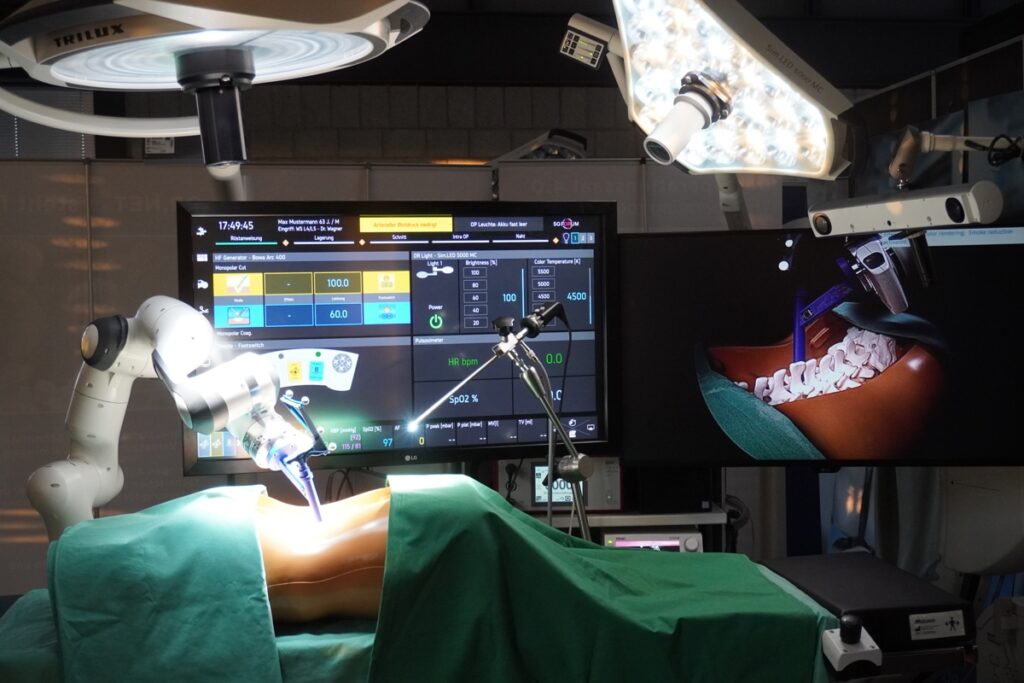 The 5G FORUM project shows the potential of 5G technology for modular, intraoperative real-time communication and will be implemented in form of demonstrators in Germany and France. As part of a neurosurgical use case, the Chair of Medical Engineering at RWTH Aachen University (mediTEC) develops a navigated surgery system which transmits data reliably and with low latency using 5G campus networks.
The focus of the French demonstrator, on the other hand, concentrates in the areas of augmented reality, video streaming, telesurgery and telesupervision. These are combined with an already existing robotic surgery system from to the company ecential robotics. This system enables experts outside the operating room to keep informed fast and smoothly about a running procedure.
The applications use the new international standard ISO IEEE 11073 SDC for cross-manufacturer medical device communication. This will be expanded to include real-time wireless communication using Time-Sensitive Networking (TSN) and private 5G networks. The demonstrators are implemented with the newly developed, commercial "sdcX" software library from SurgiTAIX AG. The combination of these technologies will be operated for the first time in 5G FORUM.
The results of this research project will be further developed and will be integrated as additions into the SDC standard family. The use of interoperable, wireless and manufacturer independent medical device connectivity will be ensured and the use of AI as part of a decision-making, alarm and prediction system will be further developed.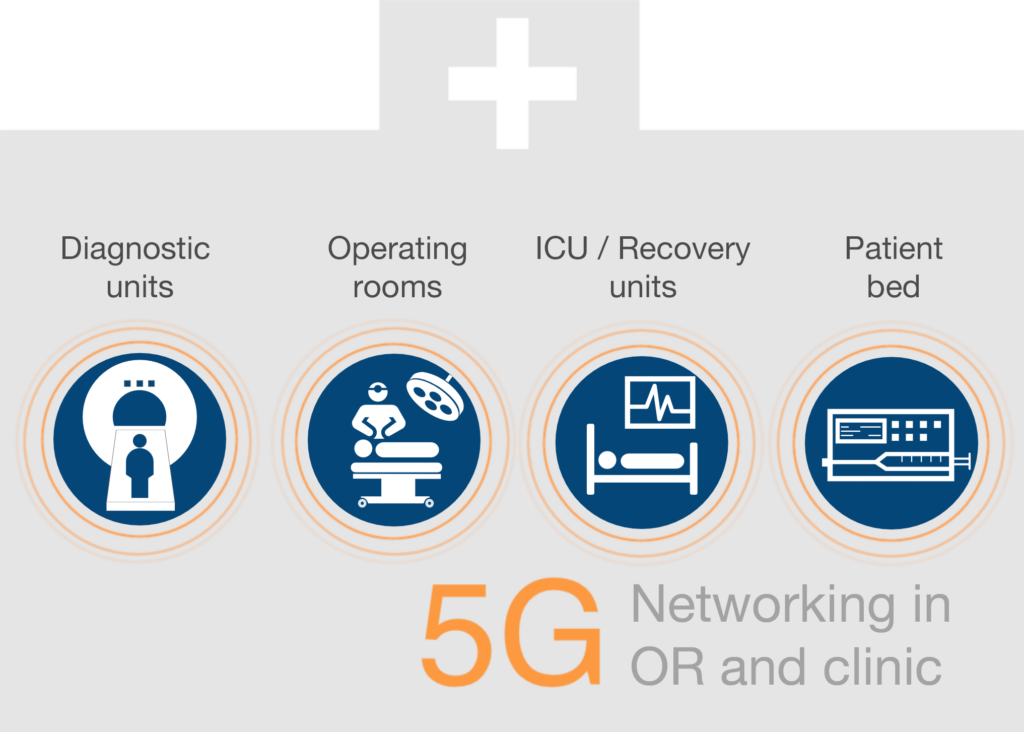 The project will produce a regulatory compliance guide that includes a risk analysis of 5G-specific risks and required standards to follow. This guide intends to reduce the market entry barrier for manufacturers, who want to develop and bring their medical devices to the market in a 5G-compliant manner.
Mission
Creating two unique robotic surgery demonstrators with a specific focus on the (OR) environment in a research and industry setting
Creating a smart OR using interconnected medical devices connected by the open standard SDC
Utilize augmented reality and high-quality video streaming, showcasing private 5G as an enabling technology
Expected Impact
5G FORUM is developed to reduce work for clinic staff, patients as well as the healthcare system. Shorter operation times lead to an improvement in the recovery process and a decrease in costs can be expected for the healthcare system.
The first-time support of wireless manufacturer independent real-time applications allows innovative usage in areas like clinical robotic and navigated surgery. The use of open standards is pro-competitive and ensures a barrier-free market entry for small and medium-sized companies.
The published regulatory guidelines for 5G-enabled medical devices during the project will simplify the approval process for medical 5G and real-time applications in the clinical context. The strategic partnership between industry, research institutions and clinical users in France and Germany makes a major contribution to Europe's technological sovereignty.
Use Cases
Robotic and navigated surgery in the field of neurosurgery
Telemedicine and telesurgery
Partners